Waste transportation; often nationally, involving small containers of door-to-door waste, containers from large organizations or bulky waste after the renovation. A good option for fleet management in waste transport is a weighing system that ultimately makes it possible to make the bill. A transporter of waste often drives to many different locations in the region to handle the stops.
A combination of blackbox, MobiScout Mobile, MobiScout Suite and the MobiScout Planner app is often used in waste transport. This way, the driver has all the options on the road and as an administrator at the office and on the road you have the option to monitor your fleet.

A weighing system in waste transport ensures that you can quickly invoice the correct number of kilos to your customers. In addition to being able to invoice the weighted kilos quickly, it is time and cost saving for the driver because it does not have to be weighed and entered manually. The driver is on the road even faster.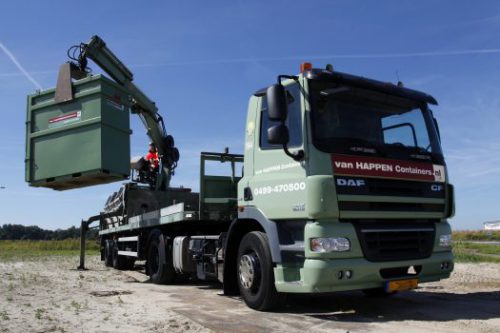 Van Happen Containers has been using MobiCoach mobile devices for some time. In addition to the fact that Van Happen has the convenience of the standard functionalities, Van Happen Containers has commissioned MobiCoach to make a link with a weighing system. This way, Van Happen knows exactly how many kilos have been picked up at a pick-up location and the invoice can be sent immediately.
This might interest you too
A quarter of the total domestic transport is carried by tippers. Building materials, gravel,...
Read more