What are important ingredients for a successful fleet management system? Which modules do I need or not? How do I get the information from the fleet management system that I would like to see?
MobiCoach has been talking to colleagues from the transport sector for years and knows exactly what you want to get out of the software as an entrepreneur, manager, planner or administrative employee. In addition, we would be happy to talk to you to ensure that MobiCoach's solutions fit in better with your company. Mainly because we have noticed that no transport company is the same and it is important to be able to think along flexibly.
MobiScout Suite is not a single-program, but is often used in combination with our total solution. Our total solution consists of, for example, a blackbox, mobile device with MobiScout Mobile, the MobiScout Planner app and MobiScout Universal.
MobiScout Suite is specialized as a program and contains numerous options. The software must be installed locally for correct operation. With this, however, you are assured of a very comprehensive bundle of information that allows you to maintain insight and overview of your fleet at all times.
You can adapt MobiScout Suite to your preferences, for example by using profiles. A planner simply wants to get different information from MobiScout than an administrative employee!
Even if you are not at your workplace and cannot use  MobiScout Suite, we have thought of you. With solutions such as the MobiScout Planner app and MobiScout Universal, you can stay in control of your transport and fleet anywhere on the road.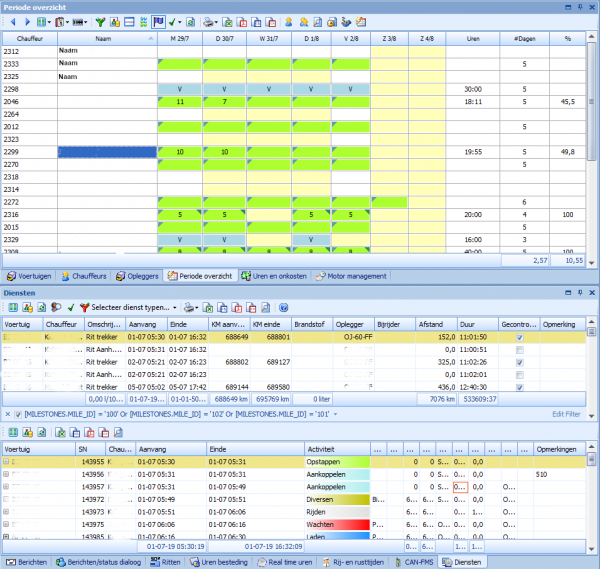 Functionalities of MobiScout Suite
From MobiScout Suite you can get all the information you need to optimally manage your fleet and transport. Below a small selection of the possibilities is shown within MobiScout Suite.
Planning module: for follow-up on orders and trips
Drivers, vehicles and, trailers: an actual overview
Hours and expenses: for the calculation of hours and expenses conform the collective agrreement (Transport). 
Period-overview and employment: For marking days worked as checked, frozen, or generating periodtotals and a salary advance. 
Messages and statusses: for dialogs, chats, GPS-locations and changes in statusses.  
Driving and working hours act; for registration of driving and working hours. 
Driving style assessment: By monitoring and rating the information of the vehicle and canbus, like fuelmanagement and drivingstyles, it's possible to optimise the drivingstyle of your drivers. 
Temperature module: for registering temperatures with different kinds of sensors
Fuelmanagement: for the registration of tanking, usage of fuel and mileage
Management module: for obtaining insights in realmade costs per vehicle. 
Reports: for generating reports about trips, fuel usage and more. 
More… There are a lot of functionalities in MobiScout Suite, which we'd like to show you in an personal conversation. Please ask for a demonstration, so we can show you the extended possibilities of MobiScout.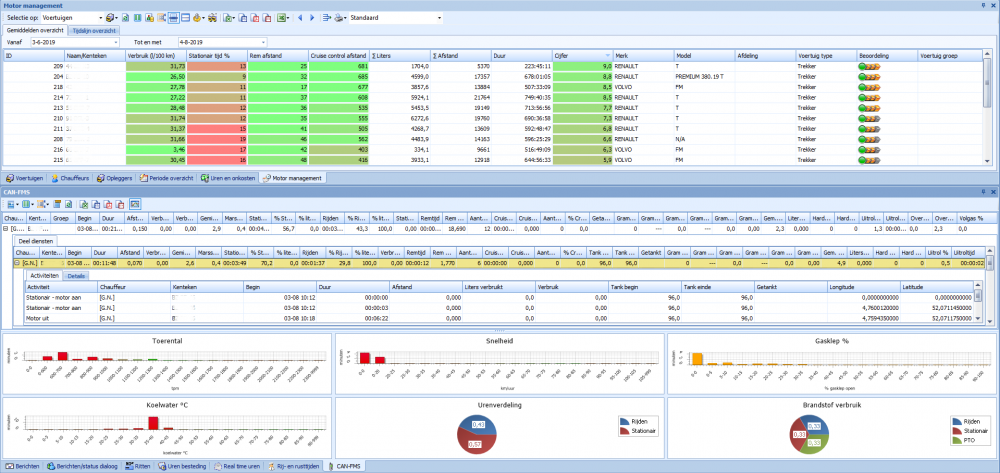 Would you like to know more about MobiScout?
MobiScout Universal is a webbased version of the extended package MobiScout Suite. MobiScout Universal is accessible...
Read more