A fleetmanagementsystem for trucks makes sure that you've got the latest information about your fleet of trucks. This way you will always know where your trucks are at the moment you're looking, and in the past. Driving times, activities, infomation about the drivingstyle of the truckdriver, and a pre-salary attachment conform a collective agreement are possibilities within the fleetmanagementsystem of MobiCoach. 
With the fleetmanagementsystem for trucks of MobiCoach, you'll get a lot of opportunities to make your transport a lot more efficient. Compare the drivingstyles of your drivers, communicate through textmessages via the platform, and get an automated and detailed description of the activities of your driver conform the collective agreement.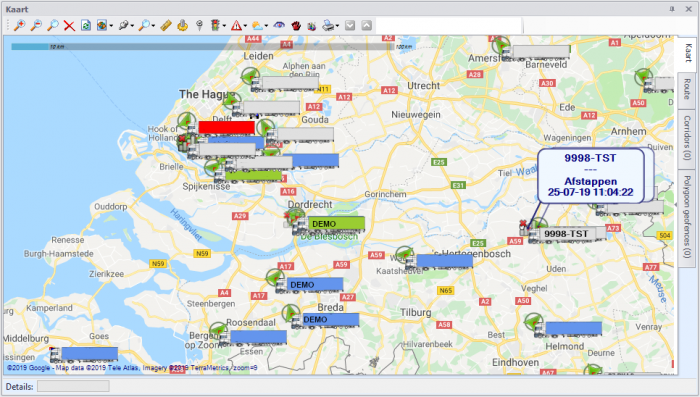 By using a tracking system for trucks, your trucks can be followed realtime with GPS. The backoffice can check where the trucks are at the moment and can adjust the rides realtime. At MobiCoach, we use different methods to get the exact location of the truck. Geofencing, GPS, blackbox, mobile communication and IoT are options for the tracking and tracing of your fleet. 
During or after the transport, you can plot the route of your driver. This way you can check his stops and driving time completely. 
Advantages of a fleetmanagementsystem
Make your transport efficient! Start being aware of everything at your office and therefore being able to manage better. Introducing a fleet management system also yields more benefits, which can result in cost savings.
Costs decrease for communication; your employees do not have to call the office to transfer data and can easily send a message back and forth.
Immediately after delivery you can already invoice your delivered goods. The number of goods delivered, time of delivery, signature and any supplied or returned packaging will be registered.
The time registration from the fleet management solution provides all the necessary data for payroll calculation. This calculation also takes into account any surcharges following from the Collective Labor Agreement for Transport, if applicable to you.
Driving style analysis and effective navigation ensure that the productivity of drivers can be increased.
Happy customers because you can provide better service and indicate when a driver will deliver the goods exactly.
Less paperwork needed, because everything can be digitally registered
Interested in a Fleet management system for your trucks? MobiCoach offers various systems, whereby we can look together at what suits your organization best. Read more about our products or contact us directly. MobiCoach is happy to be your partner in the field of fleet management systems, we can also advise and support you with hardware.
This might interest you..
The food transport is very laborious. Driving times, ETA, returnable goods, temperatures in the truck and...
Lees meer
The MobiScout Mobile app is accessible via smartphone and tablet with an Android operatingsystem. This way,...
Lees meer
The European Union, the Dutch government and in the collective agreement, rules are drawn up that...
Lees meer